Walterboro, SC circuit judge Perry Buckner sets Brother R.G. Stair's bond at $750,000. Brother Stair has more than that stashed back, this is the reason he canceled his radio stations on 1 Jan 2018. His bond will be something like 10% or the actual amount, or $75,000 which he easily has of his almost $1 million stashed back.
Stair has to have (his old friend) electronic GPS monitoring placed on him. Law enforcement also has unfettered access to the community, as Stair is not allowed to have physical contact with a minor under 18. How this is going to work out which Bro Stair having services is unclear.
UPDATE: Bro Stair was unable to go to the Tabernacle for services the week he returned as the GPS tether would not reach to the Tabernacle, so he talked on the air instead of having a Sabbath Service.
By not restricting his radio preaching judge Buckner is allowing Stair to publicly deny his charges and gather funds for legal fees to fight back as he did in 2003. Bro Stair is also now able to get control back and set things in order so that he cannot be taken down, just like he succeeded in doing in 2003.
Latest Reports:

Preacher arrested for sexual assault allowed to return to Walterboro compound, given $750,000 bail

$750K bond set for Colleton County preacher Ralph Stair accused of sexual assault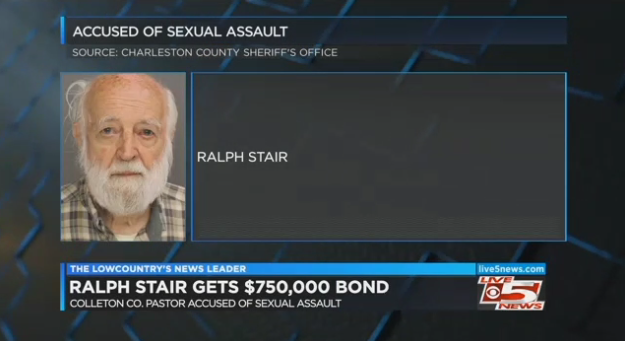 WCSC - Bond set for alleged Colleton Co. cult preacher accused of sexual misconduct

We're updating as the reports come in. Keep checking back to the website...