Sabbath Service – October 17, 2020 – Bro Stair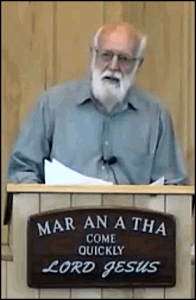 Last Updated on Wed December 16, 2020 @ 12:27 am
We have told you before about Brother Stair's use of GPS trackers on cars to track his ex-wife, his daughter, and certain brothers – now you have confirmation from Brother Stair himself that he's been doing this – even with Rose [@ 1:27:40]. 
Why would a man of God be tracking his congregation?  Especially one claiming to be a prophet? 
You can now start to see one of the many ways and methods that the prophet gets his word of knowledge on us.  Other methods were info from his daughter from gossip from the children, from his ex-wife from kitchen gossip, from his monitoring phone calls, his use of a scanner to listen in on cell phone calls, and his phone log to know who people are calling. 
Amazing how anyone can appear to be a prophet with these means (Acts 8:9).
Brother Stair is vehemently angry that they are not reading the verse he wants – even after being told what he's asking for isn't a verse – it's another construct of Brother Stair's false doctrines.
The words of a wise man's mouth are gracious;
but the lips of a fool will swallow up himself.
Brother Stair, the Prophet of the Overcomer Ministry preaching at the Tabernacle in Canadys SC.
---
Bear through the excessive clipping because of the lack of knowledge in how audio works – from the ministry of the voice.
12 minutes of the agony of The Sister Burgess Show was removed.  You know her by the one that never joins in with the singing or any of the phrases that Bro Stair has the congregation say – she's the one that just shouts away in disorder.
26 minutes of silence removed.