Sabbath Service – July 2, 2022 – Bro Stair [Old Service], Pr Rice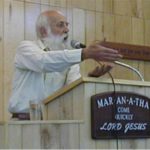 Last Updated on Thu August 11, 2022 @ 11:59 pm
Coming Destruction of Sinners
Surrounding today's Service is the old message The Coming Destruction From the Almighty which (if you'd listen to it) is in opposition to what Brother Stair is saying in this Service.  He justifies that "The things that happened to me, including sin, happened to me so that I could preach the glorious gospel".  To this, the previous Brother Stair would say (as said in The Coming Destruction) that those "who live in their sin are going to go to Hell".
This old message of Brother Stair's changed dramatically from those old messages but no one there realizes it – or do they?  They continue to deceive their radio audience with past messages that preach holiness and sinlessness, while they hold to a prophet who is a man of sin who justifies his sin.  Why don't they play his very old services before 2001 when he was found a liar that betrayed us?  Why don't they tell us the dates of the materials they are airing so that listeners can see the progression into darkness?  The waxing worse and worse is apparent when viewed from the timeline (2Tim 3:13;  Rev 22:11).
Merchandising Continues
They don't mind propagating lies – offering books (like the Too Long in the Sun ad that was just before Service), music CD's (which are illegal copies), and putting out radio stations that he is no longer on or incorrect, and Brother Stair saying he's live (Rev 21:8).
While Brother Stair would edit these things out when he caught them, it doesn't seem to bother the current regime that has waxed worse than their leader (2Tim 3:13-15).  Fulfilling the scripture – making them a twofold more the child of hell than Brother Stair was (Mt 23:15).
---
Sweet Hour of Wailing
A sampling is provided of Sister Burgess leading the weeping and wailing and gnashing of teeth and the crying out for mercy in this place of torment (Lk 16:23-24, 28;  Mt 13:50;  Lk 13:28).  This has become the standard fare for Prayer Time over the last two decades – this is not how it was begun.  It seems they know how to pray when Pastor Rice asked someone during Service but they are unable as a body to pray during Prayer Time.  Only the weeping and wailing and gnashing of teeth is heard (Mt 13:50;  Lk 13:28).  This is one of the many signs of this 'ministry' that we should not ignore.
Remember a year ago when brothers were actually praying during Prayer Time and Pastor Rice shut them down by having it taken off the air?  No?  Well, he did.  Much like the same spirit we hear from Brother Stair when he shut down a brother from praising God when Stair had a young girl to hug in the Passover Service 2019 (@ 4:50).  The issue last year was 'Pastor' Rice didn't want Jackie exposing their secrets.
You will also hear Sister Burgess peeping and muttering throughout the first part of the Service in the background (Isa 8:19).  More torment or more sorcery?
---
Brother Stair comes out of the gate telling them to not 'Amen' him if they don't believe him.  This is contrary to his usual demand for 'Amen's'.
He is again naming names to exalt himself.
The Rod of His Fury…
They took the ship (Fury) away from him.  I don't think he wants you to put God in that one now.  The ship Fury was Allan Weiner and Scott Becker's project, Brother Stair put up the money for it – listener's money that was again lost.  Allan Weiner states that "The Voyager Broadcast project was the hope and dream of many" – not solely Brother Stair's project.  Though perhaps it was his hands on it that caused it to fail – as we have witnessed in almost everything he touches, if you follow it to the end you will find the same fruit of destruction (Mt 7:20;  Jn 10:10).  Perhaps we should put God in it and apply scripture to it (Pr 22:8).
He who sows injustice will reap disaster,
and the rod of his fury will be destroyed/fail
(Proverbs 22:8  BSB/KJV)
An Established Pattern
Here again, we should stop and consider that this is another of the many failed ventures of Brother Stair where he lost his financial supporter's money.  This pattern should speak to us as to what God might be trying to tell us about Brother Stair's dabbling with other people's money.  You know, that stuff that's the cheapest thing to him.
If God was behind him and in everything he does – as he states He is – then why is there a long string of failures (that listeners are never told of) that follow every move he makes? (John 10:10)  Something to ponder – to pray about – or better yet, run from this narcissist who idolizes everything he does (1Tim 6:11;  1Cor 10:14;  Jeremiah 48:6).
…Will Fail
Again we are witnessing in Brother Stair the same ways how the Great Prostitute corrupted the earth – with her sin [fornication/adulteries] (Rev 19:3  TLB [KJV/NIV78]).  The ship Fury would go on to smuggle Haitian refugees.  Allan Weiner had brought in several people, promising them air time, so Brother Stair was not getting sole airtime on Fury as he likes to make it sound.
Weiner's engineer Scott Becker and Johnny Lightening with his Radio Newyork International (RNI) [which also operated from a ship] were among those working on the ship and had their tapes already on board – tapes which some of Brother Stair's helpers decided it would be 'spiritual' to destroy.  Just more of that fruit of destruction that his ministry brings (Jn 10:10;  Mt 7:20).
Here's a much different story than is told today by Allan Weiner and the way Brother Stair told it.  "The ties to Stair, whose views stood in sharp contrast to Weiner's, led to accusations that Weiner had "sold out" his long held beliefs in pacifism and agnosticism.  Stair frequently clashed with Weiner and especially Weiner's engineer Scott Becker during the abortive project."  (Allan Weiner – Ships Ahoy, liquisearch.com).  Who was fooling who?
Pretty sure the Almighty God would have had no problem fulfilling His purposes with the Ship Fury – if He would have been in it, and it would have been His purpose.  Its end declares the presumption of the dream of vanity (Deut 18:22).  Because God's purposes will be accomplished (Isa 55:11) showing us that this was not God's will nor God's project as Brother Stair made it out to be.  He lied on God (Acts 5:4).
So shall My word be that goeth forth out of My mouth: it shall not return unto Me void, but it shall accomplish that which I please, and it shall prosper in the thing whereto I sent it.
(Isaiah 55:11)