Last Updated:
The Many Signs of Jonah

Jonah was sent to an ungodly people – not who Brother Stair claims to be sent to
Jonah ran from Gods calling – Brother Stair claims running from a woman prophetess [does that count]
Jonah's audience repented – something Brother Stair says his audience does not do and that his generations will not do
Jonah's audience was spared by God – something Brother Stair claims is not going to happen
Jonah's prophecy failed, making him a false prophet – something Brother Stair claims he's not yet likewise all his prophecies have failed [but who's counting]
Jonah was bitter and complaining and wanted his audience to be judged and distorted – that would be the same for Brother Stair [he won that one]
The Changing Sign
So we see that where Brother Stair is the same sign as Jonah is in being a false prophet who ran from Gods call and ended up a bitter complainer wishing destruction upon his audience.
Jesus referenced Jonah's 3 days and nights in the belly of a fish as a representing sign of the length of His death and burial, three days and three nights. This is the only part of Jonah that Jesus spoke as a sign – the time frame of Jonah's burial. This does not have anything to do with Brother Stair's "Jonah Sign" which he claims to be. Yet this is the only sign Jesus spoke of regarding Jonah. Seems like someone is after making themselves into every kind of Sign they can. There's something psychologically wrong there, but that is the pattern of those with the Jerusalem Syndrome.
Portrait of a False Prophet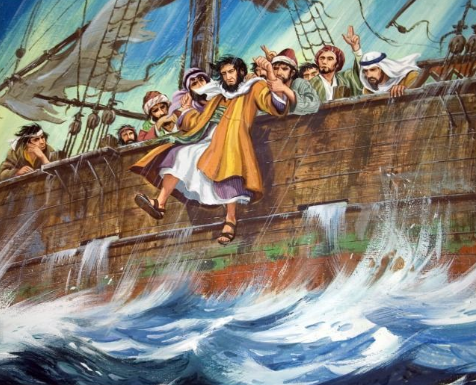 I for one would not go around claiming Jonah upon myself, and neither did Jesus. Bro Stair uses the sign of Jonah in his own way – not what Jesus said Jonah's sign was. Stair changes it to, as Jonah was sent to Nineveh… Thus becoming like Jonah, thus making him also a false prophet and the fact that Bro Stair's prophecies have all failed is likely much the reason he takes up the mantle of Jonah to find justification in his failed prophecy.
Bro Stair has used Jonah as a defense from the beginning when his 1988 Prophecies failed and were challenged. Knowing they failed he would ring back to his questioners asking them, "Jonah's prophecy failed. Was Jonah a false prophet?" Brother Stair was clearly admitting that his prophecies had failed in the 1988 prophecy. He didn't try weaseling out of it like he has over the past decades since saying, they have all come to pass or that they are about to come to pass. Soon after 1988 he and everyone else knew that what he said had in no way come to pass and time had run out for it to have – how many times did he say "time year"? So the Jonah defense was used. Since then Jonah has been branded into the sign of Jonah. "As Jonah was sent to Nineveh…"
Apparently, Brother Stair is saying here that he comes with a word of coming destruction that is not going to come to pass. Then he is going to go up to a high place (airwaves) and complain about it and every other inconvenience that besets him. A grumbling complaining bitter man whining to God about how inconvenienced his life is by the continued existence of those he's preached to, upon whom he wishes destruction so that his words would come true. Okay, I'll give you that, that is fitting here.
That's not the sign that I would be making myself out to be.
Let us not forget Gods reply to Jonah. God was more concerned with the 'godless' generations that Jonah condemned to destruction then He was with the Prophet or his whining. Scripture tells us that God is the same – yesterday, today, forever.