They Went Out From Among Us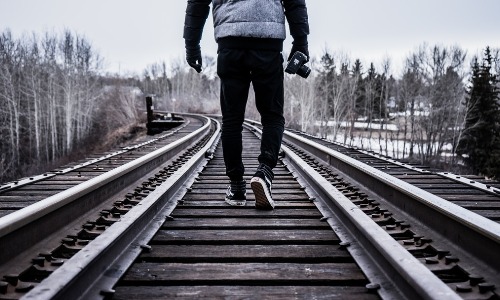 Last Updated on Sun November 1, 2020 @ 9:57 pm
Regarding…
1John 2:19-20
That Brother Stair would even dare accuse the brethren (Zec 3:1;  Rev 12:10;  1Jn 2:9) who left him saying that they were not of Christ because they left, after he says that only those God tells me are Gods people are the ones that come and live with me, is so hypocritical (Pr 4:19).  Brother Stair condemns himself alone in his statement that they were never of God or that they turned from God and the Prophet didn't know they would.  He is, therefore, saying that either he doesn't hear from God or that he ignores and disobeys God.  Neither of which is acceptable to him but all of this is on Brother Stair – not his congregation or those that left him.  This is also coming from a man that has lost 99% of his followers throughout his ministry years.  Somethings wrong there, and there's only one common denominator in that math – Brother R.G. Stair (Mt 7:16-20).
Unless Bro Stair means that they were never of us (him, his ministry), as they did not belong to and believe in the same god that Bro Stair does (himself).  Then we could agree with that.  But don't put them against God's Kingdom because your kingdom is fallen.  For they were the ones who came out from the wickedness that they found themselves in – Brother Stair hasn't (1Cor 6:18;  2Tim 2:22;  2Cor 6:17;  Num 16:21;  Pr 4:14;  Num 16:26;  Isa 52:11).
Throw in your lot with us, and we will share a common purse
(community living, all things in common)
My son, do not walk in the way with them.
Keep your feet from their path, for their feet run to evil
(Pr 1:14-16 NIV84, NASB)
Certain Men
Some of us remember when the verse 1John 2:19 first became real to us in an application.  With the Jonestown Massacre or years after when it came up in the news or the other cult leaders who seemed to be men of God, and the question arises, what changed Jones?  Was Jim Jones ever a man of God and if so what changed him into the mass-murdering madman that he ended up as?  1Jn 2:19 tells us that Jones was never of God because the word of God tells us in 1Jn 2:19 that these men that go out from God and no longer hold to the doctrine of Christ (1Jn 1:9-11;  1Tim 6:3-5;  2Pt 2:21) and walk in their sin were never of God.  Their fruit finally shows out to reveal who they are at the root (Mt 7:16-18).  Though they may use His name and carry a religious pretense and adorn themselves with many illustrious titles to fool their followers (2Cor 11:14-15).
If Any Prophet Draw Back
These certain men have drawn back from God's purpose, God's will, and God's people (Heb 10:38).
These men are touching Gods anointed people and like the many Jim Jones' before them, they steal away the people of God, they destroy their true faith and their families, and they kill them – sometimes physically but always spiritually or mentally (Jn 10:10).
Some of them, even a prophet of their own (Titus 1:12), touches God's sisters with public groping (sensual hugging) and private sexual 'healings' (1Cor 7:1;  Rev 2:20).
In light of this hugging of Brother Stair's, I'm reminded of what Oswald Chambers asked that also fits this situation;  "Is this the kind of thing in which Jesus Christ is interested, or is it something in which the spirit that is diametrically opposed to Jesus is interested?"  Be honest and you'll identify the root of Brother Stair's hugging that begins his sexual advances.
Touching The Anointed
God did not say, as some men are saying, touch not mine anointing man of God (Ps 105:15).  God is saying for today that His people are anointed with His spirit in them, they are not to be touched.  Net even by so-called prophets.  Unto His prophets, he only says to do no harm to them.  And God didn't mean for the prophets to whine about anything they dislike that hurts their feelings, that's not what He was talking about. Get over it and stop touching Gods anointed with your hands and your tongue.
God is clear here in separating His anointed from His prophets.  Bro Stair wants to be both, as such he offends in both matters, he steals away God's anointing from those he touches and does them harm (1Chronicles 16:19-22;  Ps 105:12-15).
Even As He Walked
1John 2:6  says, He that saith he abideth in Him ought himself also so to walk, even as He walked.  1John 2:29  If ye know that He is righteous, ye know that every one that doeth righteousness is born of Him.  1Peter 2:21  For even hereunto were ye called: because Christ also suffered for us, leaving us an example, that ye should follow His steps.  1John 3:8  He that committeth sin is of the devil; for the devil sinneth from the beginning.  For this purpose the Son of God was manifested, that He might destroy the works of the devil.  2Peter 2:9  The Lord knoweth how to deliver the godly out of temptations.
This was the message of the Overcomer Ministry until 2002 when Brother Stair was found in gross sexual sin which exposed him to the whole world and he was arrested on multiple rape charges.  Then there were the transition years where a repentance was preached that there was a turning back to the ways of holiness, which was believed by those who stayed and waited for this return to holiness and its fruit… and we waited… and waited… (1Jn 2:4).  Alas, it not only didn't come, the opposite came.  Brother Stair seized greater control and ruled the Community with an iron fist after he got out of jail.  He was not going to permit anyone to put him back in that place where he was without control again.
Listen to what Brother Stair use to preach about continuing in sin from 1John while he was hiding his continual sex sins behind the lying cloke that he was sinlessness (1Jn 3:6;  1Jn 3:7-8;  1Jn 3:9;  1Jn 5:18).  He is condemning himself with these words from his own mouth.  Notice how different this message is from the one he preaches and practices today.
The Prophet Walks On
Alas, there was no repentance, for the wickedness only grew worse and worse (2Tim 3:13) as Brother Stair was found time after time in sexual sins, and was confronted by many brothers which were then cast off the land or left, which his radio audience (think financial supporters) knew nothing about.  The whole reason why the River Community departed was that they didn't want him groping the sisters in his hugs (1Cor 6:18;  2Pt 2:7-8).  To which Bro Stair still awaits their repentance so that he can restore them – and thus get back to groping them, or worse (Pr 4:16-17;  Jn 3:19).
So who is it that drew back unto perdition from God's way of holiness?  (Isaiah 35:8;  Heb 10:39)  Bro Stair no longer even uses the word sanctification, which he once preached and believed that we could walk holy in this present world (Titus 2:12;  Eph 2:10).  Which should make one ask, what work of preparing Gods people could be done by a ministry without sanctification unto holiness?  How is it preparing a people unto good works? (Eph 4:12)  How are you then making a people ready to meet the Lord? (Jude 24)  By tearing them down in their most miserable iniquity? (Jude 20; 2Tim 3:6)  It seems that the only ones that go on in Christ (Heb 6:1) in this case are those that flee from the wickedness or the 'ministry' – which granted, has been 99%, so that's something.  So, a ministry with the only good fruit coming out of it, is that people are coming out of it…  Hmm.
Enter The Creeps
Jude 4 warns us that Certain Men have crept in, unaware to us that they are creeps, they have crept in another way than the Door of Christ which is holiness unto the Lord (Isaiah 35:8;  Pr 4:18).  We are unaware of where they come from.  They tell us stories of where they supposedly came from but they are their only witness.  They didn't come right.  Right is Christ.  Christ is the Door (Jn 10:9) not grace, and Christ is not closing His door – He's coming back.  The Door (Christ) leads to grace, the door is not grace as some creeps teach (1Tim 1:6-7).
These creeps have no conviction of their sins because they have no Holy Ghost or they have grieved Him so much that He no longer deals with them (Eph 4:30;  1Jn 2:4;  2Pt 2:21).  Either way, from such men, turn away (2Tim 3:5).  Paul tells us the fruits of those who greave the Holy Spirit, their communication is corrupt (Eph 4:29).  They are filled with bitterness, wrath, anger, clamor, evil speaking, and malice (Eph 4:31).  They are not kind, or tenderhearted, or forgiving (Eph 4:32), they just demand that you forgive them under the guise that grace covers their lustful sins (Jude 4).  Wrapping that license in, God had me do it to show you how wicked you are.  They are not on the Highway of Holiness, they are on the Highway to Hell (Jude 4).
If only they were wise and they understood this;
If only they would discern their future!
(Deut 32:29  NASB)

Then I perceived their end.
You indeed put them on slippery ground; You dropped them into ruin.
How they are destroyed in a moment! They are utterly swept away by sudden terrors!
(Psalm 73:17-19  NASB)
Consider Their End
What we now see is a man who would not receive the gentle admonition of men, neither of many men (Mt 18:16), then has been exposed to the whole church several times (Mt 18:17;  1Jn 5:16) and still became more headstrong in his rebellion to continue in his sins (Rev 9:21).  That we now see that since even the Church was unable to control this man that now God is taking charge and turning him over to Satan for the destruction of his flesh and mind (1Cor 5:5;  1Tim 1:20;  Titus 1:15).   So having been turned over to the heathen (Mt 18:17) – law of the land, the authorities, Gods sword of vengeance (Rom 13:4) – God will exact His vengeance for the crimes committed against His body (Rom 12:19;  Deut 32:35).  At this point, we still see no repentance in the man, only a justification that he's being persecuted for his preaching the gospel and is not guilty of these things but only that he went on YouTube and shouldn't have said some things he did (1Jn 1:8;  1Jn 1:10).  He is unrepentant that any of his actions have been wrong in even touching the sisters (1Cor 7:1), and continues to this day in doing so (Rom 1:28;  Titus 1:15).  More and more, each and every day, as he sees the Day appearing (Heb 10:25).
What Would Jesus Do
Flee fornication.
~1Corinthians 6:18
Flee also youthful lusts: but follow righteousness,
faith, charity, peace, with them that call on the Lord
out of a pure heart.
~2Timothy 2:22
Wherefore come out from among them, and be ye separate, saith the Lord,
and touch not the unclean thing; and I will receive you.
~2 Corinthians 6:17
Separate yourselves from among this congregation,
that I may consume them in a moment.
~Numbers 16:21
And he spake unto the congregation, saying,
Depart, I pray you, from the tents of these wicked men,
and touch nothing of theirs, lest ye be consumed in all their sins.
~Numbers 16:26
Depart ye, depart ye, go ye out from thence, touch no unclean thing;
Go ye out of the midst of her; be ye clean, that bear the vessels of the Lord.
~Isaiah 52:11
Now unto Him that is able to keep you from falling,
and to present you faultless before the presence of His glory with exceeding joy
~Jude 1:24
See also the articles Many Went Back and  What Doeth the Scriptures Say
See also Edward O. Bragwell's article in Truth Magazine, "Flee These Things"