The End of Brother Stair's Ministry and Radio Broadcast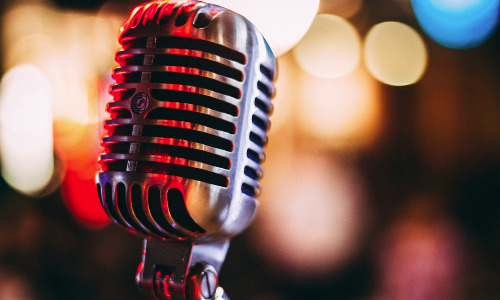 Last Updated on Tue November 1, 2022 @ 12:48 am
The End Is Come
Fall 2018 marks nine years since Brother Stair told the world that he was ending the broadcast and he would be removed in our site.
On the morning of Wednesday, 14 Oct 2009 (Brother Stair mistakenly called it "the 15th") at 6:41 am Brother Stair blew the trumpet from the Radio Room to announce he was going live then went into an 8-minute tirade.
Seems the Voice of God was mad about something or someone that he couldn't find any other way to deal with.  So he went on the air to air out his dirty laundry to the world that had nothing to do with it – and could not fix it.  In doing so, Brother RG Stair was only looking for outside support in his rebellion against what God was doing on the Farm (and with his then-wife) that he was resisting (… resisting repentance).
God Said
Brother Stair, in Prophet mode, says I've had the word of Almighty Yahweh make it very clear to me it's time fo me to pack up my stuff and get out in your site [the Farm apparently, though at this time he had not yet excommunicated the River Community].  That this was going to happen and that today is the beginning of the end of this mess this contribution, this confusion, and plans would be made to bring it about.  We were to find out before that day was over what steps would be taken to bring this about.  Apparently, God needed some time to figure out what to do about it and would get back to Brother Stair on it. 🤔
How did this proclamation from the Throne of God end?  The same as what we heard about the steps that would be taken…  Like all things Brother Stair – steps of nothing!
"The end of all things.  The beginning of the end.  The end of all things.  The end of this ministry.  The end of this radio broadcast."  That is how it went.  It seems it was well-intended that it was going to be replayed over and over (for a good beating) as the introduction was a greeting for all times of listening – something that is not common.
Call, Don't Call… but Call
Brother Stair's care for you calling was so little that he would later interrupt the rebroadcast of this 'excerpt' with more pleas for the phone calls that he didn't care if you made, and give the phone number earnestly so that you did, and later would air those phone calls that he didn't care about.
"This little excerpt and that will probably be the end of it."
"Call if you like, I don't care"
"It could be the last time you get a chance to call"
Really I don't care…  that's why I keep reminding you that I don't care…  here's the number for you to make that call that I don't care for…  So please call, but don't think that I care if you call… Call now!
Confusion?  What Brother Stair was after are callers to strengthen him in his rebellion and sorcery against his wife and the Community.  He wanted to be told he was doing right and give him some phone calls to air – which he did…
As that wasn't enough he went on to reading emails to enhance his sorcery of manipulation.  Of which his later additions began with.  [see below]
"We'll talk throughout the day" We heard very little from him aside from his wanting callers and emails to strengthen his rebellion and to read them – those calls and emails that he didn't care about.
After about two hours of looping this rant, he switched for six hours to airing just the Brothers' messages and stopped airing this rant.  Showing even more of his temper tantrum manifest in that he was not going to let them hear his voice and make them feel bad for him.
It wasn't until 11:12 pm that night that we heard the 8-minute rant again—this time with some added ranting [see below].
Brother Stair's Final Word
Finally, by the end of that day that was the last we heard from Brother Stair.
No that's not what happened.  In standard Brother Stair fashion, the rant was pulled from rotation and forgotten it was ever spoken.  So much for God's clear message to him.  Its intent was to put fear upon and manipulate his then-wife Theresa and his people from resisting his will (lordship) upon them.  It was all about their repentance – not his.  Just like he would do with the River in 2017 (the year God's judgment again fell on him) when he excommunicated them for their thinking that he should repent of groping the Sisters.  Brother Stair turned this on the River and demanded their repentance unto his death.
It was a tough year for Brother Stair back in 2009 dealing with his then-wife's unacceptance of his sexual misconduct that he would not give up [and still hasn't].  He was enraged about her judgment of his sex sins and the only way he knew to get her to listen to him was to broadcast it throughout the Community.  As he said, he was having to deal with, wrestled with, and fight with this all night in his house.  She probably just drove off the Community as she would sometimes do, just to get away from the verbal abuse he was airing.  Perhaps now we see why she did that.
Very Soberly, Very Seriously
You mock me, you challenge me, you call me names, you won't receive a love for the Prophet – what did Sister Theresa call him?  An adulterer perhaps.  A liar for sure.  He was sure upset and wanted her to hear it on the broadcast over and over.  He wanted to be sure he added, "for your husband".
When all that had run its course… so had the Termination message.
"The word of Almighty Yahweh made it clear" that he was to remove from [the Farm].  But Brother Stair rebelled against God and stayed.  He resisted and rebelled against what his own mouth said that God told him to do. 🤔  Perhaps if we put God in just one aspect of this… we will see God in the removal of His people from Brother Stair because Brother Stair would not be removed according to the command of God.
You could say that this did eventually come to pass.  For his gross sexual sins, his abuses against God's people, and his false teachings, but also because he rebelled in not leaving – God forced him out.  In 2017 his sins had come to a head (again) and God [said] it's enough.  This is when he was removed in their site.
God was to make sure that those who refused to hear and turned to walk in their own way will have their own way.  Thus today we see that Brother Stair is the man that fits this pattern – walking in his own way, and has got his own way.  And what about the pattern of You mock me, you challenge me, you call me names?  Who does the mocking, challenging of God's people, and the name calling?  We all have only witnessed one person that does that when it comes to the Overcomer Ministry – Brother R.G. Stair.
Either Restoration or Destruction
As far as his then-wife Sister Theresa – he did lose her.  Yet he wanted her to return.  It wasn't her destruction – it was his.  Brother Stair reaped his own words here –  the first partaker (2Tim 2:6).  There was no restoration.  Because there was no repentance (change) on Brother Stair's part.
"You don't walk in righteousness…  you are damned, you are a liar, and you will go to Hell, and that's all there is to it."  Brother Stair's words in this very seriously word of Almighty Yahweh from his own lips became for himself to reap.
Brother Stair would now justify himself and say that his wife and the Community were destroyed because they refused to be restored.
But whose restoration was needed here?  Was it not the restoration of Brother Stair to his wife in sexual purity, to stop his constant adultery that was the issue?
As far as his then-Community, he's also lost over 90% of them since then.
There was No Restoration
There was no restoration of Brother Stair, so Brother Stair has reaped destruction upon his own head for his refusal to repent and be restored to the Body.  Nor was there a restoration to his wife, and in December 2013 Brother Stair was caught in adultery with Sister Rose on Theresa's (his then-wife's) birthday.
Brother Stair said he was not going to be rebellious but that's exactly the very thing he exercised himself in.  He rebelled against God telling him to leave that day.  Which turned into Brother Stair telling God to leave that day.
Fill Up Your Cup
Here's your sop.  Your cup is filled, Brother Stair.
It wasn't the beginning of the end as he stated either.  The beginning of this end started when young Ralph Stair was 16 and was going to church just for the girls.
It was then that he realized that he needed to make himself some great religious person that the women came to church to see and fawn over (Acts 8:9).  That's how all this mess began.  We see how it's ended for him.
"You continue to live… pleasing your flesh, you're done.  You're hanging yourself.  Lose it [your life] you are."
Today we clearly know that it is Brother Stair that is, and was, the one who continued to live to please his flesh.  Why he pronounced so much damnation that ends up turning upon himself is only realized in that he thought everyone was buying his holy routine and he alone was the righteous man among them.  Thus making all his accusations of sin condemn everyone but himself.
The Magnification of the Matter – 99% of his followers have left him throughout his ministry and his coming trial for rape says it all.
"God says it's enough!"
But Wait…  There's More
Back to the rant…  By late that night, we finally got a new word.  Well, more of the same word actually.  "Bringing this confrontation with Hell to an end"
Using an email to strengthen his rebellion and pat himself on the back.  Which he worked into an even more scathing blasting and devouring of his target.
"It's time for me [Brother Stair] to decrease"
Finally proclaiming, "The beginning of that end is profoundly being enhanced TODAY.  We'll start it by bringing even THIS MINISTRY to an end!"
Eventually, by Prayer Time the next morning, this evolved into adding the unlicensed use of Alexander Scourby reading scripture to induce guilt upon the hearers.  But those scriptures really applied to Brother Stairs' abominations, as we now know.
As the Swan Song Says
"It cannot continue on this temporary gain, as the song says."
But alas, it has continued. Repentance is not in Brothers Stair's fruit.  What temporary gain he was seeing was never disclosed, as we witness no gain, temporary or long-term, in this ministry of loss.  Only long-term loss.  He lost 99% of all that God has sent him (John 6:37).  He lost all his wives.  It lost any credibility it might have had with radio stations.
Anyway, who needs God's word when you've got a song on it.
He that openeth wide his lips shall have Destruction
(Proverbs 13: 3)
Related articles: 
---
UPDATE 2017
In the Fall of 2017 Brother Stair was arrested on 8 charges and his radio stations all dropped the Overcomer Broadcast because of the heinousness of his crimes and the video evidence.
It was a long time in coming but was this the fulfillment of this word in Oct 2009 – eight years earlier?  8 charges for 8 years.  Put God in that one.
To this total loss of air time, Brother Stair proclaimed that he would never be going back on the radio, and that part of his ministry was over.  He was now only to go to the lost house of Israel.
So how does this play into his being on the 12 transmitters of Radio Jülich 24/7 before Jesus returns?  Then again, Radio Jülich is no more… or did the prophet Brother Stair forget to tell you that?
SWLing.com reports, Overcomer Ministry to halt radio broadcasting in 2018
This end of the line was also noted by other shortwave listeners as revealed in this YouTube video from Dec 2017.
---
UPDATE 2018
The year opens with the declaration that the Radio Outreach has ended.
Then by the end of April, to build back up using Pentecost in 2018, the Post & Courier reported that Stair could be heard on the radio inviting visitors to feast with him and his followers, who he calls "the saints," to take part in a Pentecost celebration May 20 at Overcomer Ministry.  South Carolina preacher accused of sexual assault resumes radio program
---
UPDATE 2019
Since Brother Stair was released from jail to house arrest on a $750,000 bond, a GPS ankle tracker, and a restraining order against any minors in his presence.   He has slowly gone back to going on radio stations.
When over a year passed without a trial he was able to convince radio stations that there was nothing to the charges and they were blowing over.  His high-paid criminal lawyer who gets rapists and murderers off has Brother Stair feeling his oats and engaging in his sexual sins more openly.  Especially now that he no longer is on YouTube where his actions in Service can be seen and used against him.
As of May 2019, the Overcomer Ministry's April 2019 Radio Log states the Overcomer is on 8 AM/FM radio stations and 6 Shortwave stations, using 26 frequencies, and 11 stations listed as streaming audio.  That's a long way from 2018's "will not be broadcasting on" radio.
---
UPDATE 2022
18 years to the day, Brother Stair would be on the verge of more jail time over his sexual perversion on a 16-y-o in his Radio Room.  It was on this day in 2017 that he would make the absurd justification of his actions with the statement that "I touched em right", referring to how he groped the genitals of 16-y-o Sister Natasha.  See more details on this in the article It Was 18 Years Ago Today.
He touched em alright, and went to jail again, and died with a GPS-tracking ankle monitor on him.  And still, his words in October 2009 fail to transpire.  His ministry has not ended and still goes on in his name spreading his lies still.  Only further marking his words as lies.