Sabbath Service – Aug 27, 2022 – Bro Stair [Old Service], Pr Rice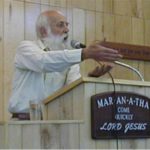 Last Updated on Sat September 3, 2022 @ 7:58 pm
Whosoever transgresseth, and abideth not in the doctrine of Christ, hath not God.  He that abideth in the doctrine of Christ, he hath both the Father and the Son.
If there come any unto you, and bring not this doctrine, receive him not into your house, neither bid him God speed:  For he that biddeth him God speed is partaker of his evil deeds.
(2John 1:9-11)
Opening with the segment that was airing just before Service started, and inserting Brother Stair's comments to make it relevant so we have the Present Truth on the message.
---
Brother Stair starts out pushing his false witness doctrine and using it to condemn all but two or three.  We have talked about the many ways this false teaching is a false doctrine.  Losing The Witness is one of many articles that speak to this topic.
Because of my humanity, a lot of you folk no longer receive my words as the Word of God – which it is!
This had nothing to do with his humanity – by which word he was using to cover his sins.  This humanity is mostly his sexual perversion and rape but it's also his lying – which is also why we no longer receive his words as the Word of God – because it's not!  God doesn't lie – Brother Stair lied most of the time (Titus 1:2;  Numb 23:19).  Thus we know – if we were too simple [ignorant] to not realize it beforehand – that these are not God's words (Matt 7:15-20).
We judge as men, we don't judge as God.

But Brother Stair judges as God.
Here's what God told me.  He said, Son…
The greatest sign that God never spoke to Brother Stair is that his god never dealt with his sins but always accused the brethren (Zech 3:1-2;  Rev 12:10).  This is the working of Satan (2Thes 2:9-11;  Rev 12:10).  If we would have tested that spirit we would have known who was speaking to Brother Stair and we would have known the spirit that Brother Stair was operating in (1John 4:1;  2John 1:9-11).
Are you for me?  A long time I've warned this world and this mankind; you don't want to play any part 'against'.  Whatever God's doing in somebody else's life you may not like it but it's still God's doing.  So don't be against what He's doing.
This is spoken for Brother Stair and to those who are not for me.  This is not a warning that Brother Stair headed for himself to be warned in his being against God's people – as we have already witnessed him being in this service.  No, words like these were always for me and against others.  It's noted that you may not like it but never noted that it's not something that Brother Stair would have to pay heed to not liking.
God's raised up this New World Order… to make His power known.
That was all fine and dandy words… until they came against him and made God's power known and put him in jail… twice.
A people without understanding will come to ruin
(Hosea 4:14  NIV)