Sabbath Service – Sept 17, 2022 – Bro Stair [Old Service], Pr Rice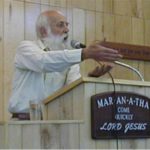 Whosoever transgresseth, and abideth not in the doctrine of Christ, hath not God.  He that abideth in the doctrine of Christ, he hath both the Father and the Son.
If there come any unto you, and bring not this doctrine, receive him not into your house, neither bid him God speed:  For he that biddeth him God speed is partaker of his evil deeds.
(2John 1:9-11)
Let's all remember the prophet's words at this pivotal point in history as the guard changes, in regards to what he spoke about the Greatest Funeral Ever.
---
Intro material from before service is included with context.  Put God in it!
This service is a whopper!  It started out with The Sister Burgess Show fulfilling the scripture on vain repetitions and worshiping what she knows not, in so many ways (Matt 6:5-7;  John 4:22-24).  Because she doesn't know that she isn't worshiping God and doesn't realize who this Brother Stair is even though she's had ample opportunity to know the facts of who he is.
In her denial of the truth of her own daughter being raped by Brother Stair, and having her own husband who now has nothing to do with him after living with him – she still refuses to acknowledge the truth and come to repentance – but rather because of the praise and adoration that has been lavished upon her by the prophet, and now the new prophet (Rice) she is in no way going to come out of her strong delusion (2Thes 2:11).  She is in this for the prize it gives her.  So much scriptural error is fulfilled just in that.
In today's message, Brother Stair says he does not have smooth-sounding words, yet this is not what we see in his accolades upon Sister Burgess and the other sisters that he shines up to.  We also see his honey-dripping words with his high-given financers like Robert, Walter, Owen, and Craig Mack.  They received much praise and honor (at least while they still have it to give).  This switching of words is seen (even in this service) in how Brother Robert became someone to blast and humiliate once his money was all gone.
So his putting out of 'angry man' to some is to hide his honey-dripping smooth words to others.  Watch out Walter – when your money runs out or is no longer needed they will cast you to the curb like he did Brother Robert and Brother Chris.  The few that have escaped this did it by death – like Craig Mack.    Does anyone want to go ask Robert if he had to do it over again if he would have given Brother Stair his million?  Does anyone want to guess what his answer would be?  His 'rebellion', as Brother Stair labels him, is because he doesn't want to have anything to do with Brother Stair but has nothing left but the handouts that Brother Stair grudgingly gives him.  He knows the fraud and liar that Brother Stair is.  He's trapped.
Brother Stair's daughter Naomi has done much worse than Robert, yet she gets offered anything she wants.  Because she is profitable to him for the trial of his sex crimes, just as is Sister Burgess.  Sister Burgess is very very important for his trial.  To give him justification in that the mother of a woman he raped is vehemently supporting him.  That is his ace in the hole.  This is why she is allowed to do what she does – and is encouraged to do so.  This also gives him the excuse to abuse everyone else because they don't act like her in their idolatry of the prophet.  For Brother Stair, it's a win-win.
Do you see the pattern that is revealed here?  Of how he treats people and why he treats people in certain ways?  Having certain persons in admiration, for his advantage (Jude 1:16).  He had admiration for Robert (at one time) because of his money, and he had admiration for Burgess because of the advantage for his trial.  We see this throughout.  Why was Craig Mack never put out as being a 'rebellious' man, when he was no different than Robert?  But Brother Stair had an advantage with Craig Mack.  He was still bringing in money.  Why do you think he wanted his wife close after his death – he wanted that inheritance (and her body).
Look at Brother Stair's own testimony of Craig Mack.  He took no mind of him until he realized that he had money.  Well, that's not how he put it but that was the pivot point.  Then the praises started, and everything changed.  Brother Stair encouraged him to make a new album so that more money would roll in.  There have been several 6-figure givers that have gotten special treatment by Brother Stair – Brother Owen, Rick Bell, Brother Doug, Brother Chris, Brother Walter, and Sister Anderson to name a few.  Notice that those without honor were not big contributors.
---
Here's a testimony of Brother Stairs' about the events concerning his death.  Some things that some want to quickly disregard today.  It's amazing how the ministry of time has lost the simple ability to tell time.
A fool's mouth is his destruction, and his lips are the snare of his soul.  (Prov 18:7)
A people without understanding will come to ruin
(Hosea 4:14  NIV)