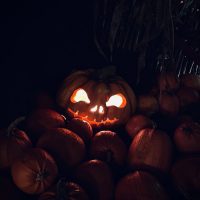 Last Updated on Sun September 25, 2022 @ 10:33 am
The month of September 2022 brings us the start of the Fall Feasts the Feast of Trumpets, and Rosh Hashanah 2022.  We should remember Rosh Hashanah 2021 when Jesus was prophesied to come by Brother Stair throughout his ministry.
This Rosh Hashanah 2022 marks a one-year failure on that prophecy and again marks the words of Brother Stair as not only false but not from God.
Pastor James Rice provided the announcements for this year's Feasts but is very vague about the times and events.  They are just going to wing it.  Play it by ear (flesh) depending upon the turnout – or lack thereof.  Showing us the confusion that is continuing at the Overcomer.
"By faith, if the Lord wills" – showing they know nothing of God's will.
The Agenda so far:
Feast of Trumpets – Monday, Sept 26th, 2022, 6 PM EST
Day of Atonement – Wednesday, Oct 5th
Feast of Tabernacles & Last Great Day – Monday, Oct 10-17th
"Thereafter as the spirit leads."  This spirit has not yet led them to the conclusion that the prophet was wrong enough to be forsaken (keep them idols and high places) but enough that Pastor Rice turned his words from materializing physically into spiritualizing them.  Just like the Jehovah's Witnesses and other cults have done when their fallen leaders' words fail.  Which begs the question, what spirit is doing that leading?
"Gather with us however the lord leads."  This must conclude and include that you need not gather in spirit and in truth (John 4:24).  Which begs the question, what lord is doing that leading?  And since Pastor Rice has spiritualized Brother Stair's words does that mean that he's also inferring that gathering with them spiritually is enough?
Perhaps that leading will be to more falsifying what Brother Stair said and converting the followers to Pastor James Rice?  Oh those all forgotten words from the mouth of the man that claimed to be the Word of God.  Guess God's word doesn't matter anymore to the Overcomers.  James Rice has done some backstepping on so many things.
Errors Again
Following the pattern of error that was common for Brother Stair, the Overcomer Ministry has got the dates wrong… again.  As usual.  Though there are always several opinions on when the Feast Days are, the Bible is clear as to how it is to be observed – with the moon sighting.
The important thing to note here is that we almost always find that the Overcomer is late in their timing.  Selah, pause and think about that.  The ministry that people rely on to tell them the time so that they don't miss the time – is the epitome of the ministry that is always late.  Has the wrong time.  Here are a few other dates to consider and to see how off the Overcomer is this year.
Rosh Hashanah for the year 2022 starts on the evening of Sunday, September 25th ending the 2-day celebration at sundown on Tuesday, September 27.  Rosh Hashanah is the Day of Atonement, [https://www.calendardate.com/rosh_hashana_2022.htm]
Feast of Trumpets/Yom Teruah/Rosh Hashana:  A Holy Convocation announced with the Blasts of the Shofar – From the evening of September 25th, 2022 (Conjunction moon 5 pm 9/25 at 2:54 pm – see new moon list below) through the Holy Day on September 25th, 2022 (Lev. 23:24).  (The two day New Moon Feast goes from the evening of Sunday, September 25th and ends nightfall of Tuesday, September 27, 2022)
Day of Atonement: 25-hour fast from the evening of Tuesday, October 4th – Wednesday, October 5th, 2022 at sundown. (Lev. 23:27) a Holy Convocation
Feast of Tabernacles/Shelters/Harvest: a Holy Convocation from Erev Sukkot (Holy Day) at Sundown Sunday, October 9th, through October 10th, 2022 (No work permitted on October 10th),  – then a week-long feast through October 16th, 2022 Last Great day "Hoshana Rabbah" (Lev. 23:34)
(Following the seven joyous days of Sukkot, comes the happy holy day known as Shemini Atzeret/Simchat Torah)
The Eighth Day/Shimini Atzuret/Simchat Torah: Evening of October 16th-17th, 2022 a Holy Convocation according to Lev. 23:36.  (No work is permitted.  Yizkor is recited on Shemini Atzeret, Monday, October 17)  [https://www.calledoutbelievers.org/feasts-and-new-moon-dates/]
Past Warnings
Take a refresher on the Rosh Hashanah 2021 Service and see what Pastor James Rice had to say about Brother Stair's words.
Should we forget what the Prophet said about not believing the prophet?  Did they also forget Brother Stair saying "If you don't believe this prophet then you won't believe that Jesus is coming back again"?  They are now saying that Brother Stair lied about what had to materialize.  How is the Overcomer still proclaiming the coming of Jesus?  Pastor Rice has made the point that that is the foundational thing that Brother Stair preached.  Yet they are not believing that prophet – so how are they believing Jesus is coming back as that prophet said?
So what is it Pastor Rice and Overcomers?  Is Brother Stair a liar or a false prophet?  Which is it?  Time to decide.  Or do you love those lies mingled with truth?  Time to decide!  The inability to break free and come to the knowledge of the truth is because of that belief in those lies that have granted you the strong delusion that you are under (1Tim 2:4;  2Thes 2:11).
"Take heed!"
Remember, we shouldn't be here at this time.  Jesus had to have returned by September 2021.  If not, Christianity is done with and the Overcomer Ministry cannot be preaching that Jesus is coming again.  Or do they not believe their leader prophet?  For to continue to proclaim that Jesus is coming in your lifetime is to proclaim that Brother Stair was a liar and a false prophet.  Is that their stand?  Why then don't they make it clear?  Can they not even see the confusion and strong delusion that they are in?
To say that "everything that he said will happen will happen" and simultaneously teach that it is a "trap of seeing that everything that he said materializes" is utter confusion and a revelation of the blindness, darkness, and strong delusion that they are clearly under.  Their contusion from their broken head.  This is not to be faithful to what he taught us.  To be faithful to what?  Confusion?  For God is not the author of confusion, but of peace, as in all churches of the saints (1 Corinthians 14:33).  They think they have strong meat when what they have is strong delusion (Heb 5:14;  2Thes 2:10-12).
The Changing of the Guard
In this season of the turning of world events and powers in every political area, with the death of Queen Elizabeth II.  Let's not forget the Prophets' proclamation that he staked his whole ministry on – the World's Greatest Funeral.  The conclusion of this matter is that it turns out that we, not his current followers, are actually the ones that believe the prophets' words.  Imagine that.  What a paradox you are in if you are trying to hold to believing the prophets' words, while you're rejecting them.
Words like these are why Pastor James Rice took the copout and wish-washed to make the prophet's words a trap and that they should be taken spiritually.  Yet he makes his stand that he's standing with you prophet while he's not.  He's lying.  His doings are what Brother Stair called "You're a liar you dog".
It's not like world events have been something that the Prophet has ever got right.  Which should tell us everything (Deut 13:1-5).  Take any president as an example and see where he marked them all as the possible anti-christ.  Doesn't the Prophet that will reveal the AntiChrist to the Church know?  Here's an example of some of his false predictions about George Bush Jr.
Along the line of Presidents, Funerals, and Ronald Reagan we have the issue of Reagan blaspheming the Holy Spirit – which is mentioned in the previous clip in reference to George Bush.  Here's a message by Brother Stan about this, Did President Ronald Reagan Blaspheme The Holy Ghost?
A couple of other videos along these lines:
Ronald Reagan's FAILED Death PROPHECIES by The Last Day Prophet RG Stair
Pentecost & Ronald Reagan's Death Anniversary