Prayer Time Sabbath Evening – Dec 12, 2020 – Bro Stair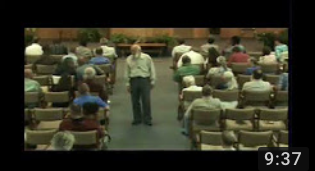 Last Updated on Sun December 27, 2020 @ 2:49 pm
Halfway through Prayer Time on Sabbath evening, Brother Stair decides to break in remotely – and prey.  We can see by his words that he is troubled again and dealing with his "enemies" (as he likes to call them), which include some of his own people that aren't submitting to his desires.  Sadly, this is the only reason and times that we hear from Brother Stair at Prayer Time anymore.
Bro Stair starts by putting forth that they should be praying for God to search them.  Then he calls for vengeance upon those he calls his enemies – and some of these enemies are those on his Farm that won't bow down to his whims.  Brother Stair "prays for his enemies" by railing on them for their damnable lies and perversions – which are the very things that Brother Stair puts forth continually. 
It is actually Brother Stair's own damnable lies and perversions that are the reason that he has these so-called enemies.  Much of this preying is likely because his enemies are pointing out that damnable lies and perversions are the ways and words of Brother Stair – with factual illustrations.  While Bro Stair can never offer any concrete facts as to his enemies' errors.  Thus he rails (in this case preys) on them and calls them his enemies.  Well, The way of a fool seems right to him, and An evil man is trapped by his sinful talk (Pr 12:15, 13  NIV84).
---
"In the name of JESUS!"
Say it four times with increasing intensity.  That should make it right – right?
"Vengence Lord.  I will give them tribulation, You said, that troubles us." 
Does it say prey on those who despitefully use you??? (Mt 5:44;  Lk 6:28)
Do you have trouble Brother Stair?  The Bible says the wicked have their fill of trouble (Pr 12:21).  That a wicked messenger falls into trouble (Pr 13:17).  Trouble is the income of the wicked (Pr 15:6 NASB).  Seems to us God's word just told us you're wicked.  Are you inheriting the wind?  Is that perhaps because you've troubled your own house (Pr 11:29)?  Is it because He who sows wickedness reaps trouble (Pr 22:8 NIV84)?  Or is this just more of the smoke of their torment ascendeth up forever and ever (Rev 14:11, 19:3)?
Since Brother Stair boasts that his adultery puts him in the place of King David, shouldn't he rejoice that he is bearing similar troubles and trials as David's adultery brought on?  In this regard, his troubles are just beginning.  Having forsaken the way of holiness and made for himself a path of sin that is justified to walk in – God is just getting started with Brother Stair.  Remember that it is those who are under the Lord's wrath that fall into the deep pit of the adulteress (Pr 22:14).
Correction is grievous unto him that forsaketh the way: and he that hateth reproof shall die (Pr 15:10), and we know how much Brother Stair hates to be reproved.  He places himself in the seat of the mocker (though actually a scorner) and scripture tells us A mocker resents correction (Pr 15:12 NIV84).  Therefore, refer back to verse 10.  If we would understand and do what King Solomon told us we wouldn't have this problem – Drive out the mocker (scoffer/scorner) and out goes strife; quarrels and insults are ended (Pr 22:10 NIV84).
You deliberately sinned before my very eyes, choosing to do what you know I despise. 
Therefore, the Lord God says:
You shall starve, but my servants shall eat;
you shall be thirsty while they drink;
you shall be sad and ashamed, but they shall rejoice. 
You shall cry in sorrow and vexation and despair, while they sing for joy.
Your name shall be a curse word among my people,
for the Lord God will slay you and call his true servants by another name.
(Isa 65:12-15 TLB)
"Give them no rest!  The devils that rage and rage and rage.  Give them no rest!  Those who permit Satan to have his way in their life and use their tounges and fill their hearts, give them no rest."

Brother Stair certainly knows how to describe himself and his doings.  But wait, he's throwing that back on someone else too blind to see it in himself (Isa 56:10).  This again has always been his trademark of deception – to expose others for what you're doing, to hide that you're doing it.  How can you call down a curse upon someone for the things that you do?  That is bringing a curse upon yourself.  After all, this is an incantation of sorcery upon those devils to give them no rest, so pronouncing a witchcraft curse shouldn't surprise us.  Yet since Brother Stair is the fulfillment of it – no matter how much he tries to mask that it's not – it is going to come back upon him.
So be it, back upon your own head (Pr 26:2).  If a man pays back evil for good, evil will never leave his house (Pr 17:13).  Rest assured, God frustrates the words of the unfaithful (Pr 22:12).
When a man's ways are pleasing to the Lord,
He makes even his enemies to be at peace with him.
(Pr 16:7)