Sabbath Service – April 25, 2020 – Bro Stair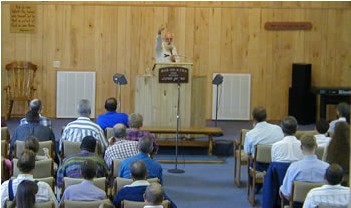 Last Updated on Tue August 4, 2020 @ 10:18 am
God is?
Whatever Brother Stair says He is, and you'd better accept that or you're his enemy.
When, please tell him [he's asking] are we going to recognize the one that is ruining the fellowship?  The one with the iniquity?
One sinner destroyeth much good (Ecc 9:18)
Bro Stair is upset that a woman doesn't want him touching her so he shows his disgust at it and says he'll never touch her again.  The reason he is saying this is so that she comes to him repenting of this and thus he will resume his groping of her… again.
"The sovereign god demands you live his life, not yours.  Do things his way and not your way."  [It should be clear who Brother Stair means as their sovereign god]
Hard to tell how long he went on after he was taken off the air.
9 minutes of fearful pauses removed.