Sabbath Service – Sept 24, 2022 – Bro Stair [Old Service], Pr Rice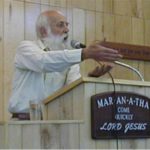 Last Updated on Wed September 28, 2022 @ 1:24 am
Confidence in an unfaithful man in time of trouble is like a broken tooth, and a foot out of joint (Proverbs 25:19).
Let's all remember the prophet's words at this pivotal point in history as the guard changes, in regards to what he spoke about the Greatest Funeral Ever.
A fool's mouth is his destruction, and his lips are the snare of his soul.  (Prov 18:7)
---
Three Brunner songs preceded the Service and two followed.  Wait for the comments against the Brunners in the service.  Like so many things the current regime blindly ignores that their prophet spoke – when what he said failed or isn't to their liking, they ignore that he ever said it, or worse they spiritualize it so they can continue on in their comfortable lifestyles and whoredoms.
A good example (one of many) is the clip above where Brother Stair staked his whole ministry on Reagan's funeral being the greatest ever.  Today, we know this was not only a failure in 2004 but with the passing of Queen Elizabeth II being a worldwide event like no other, we are certain how out of touch with prophetic reality Brother Stair was.  At a minimum, on both of these accounts.
We still challenge anyone to show us anything that he said that came to pass or any doctrine/teaching of his that was correct.  We've been waiting a long time with no takers on that…
Today I came across a word pertaining to Brother Stair's house, the Overcomer, the house of Ahab.  Brother Stair is the manifestation of a Thyatira and Pergamum church leader, in the scriptural description, with his Jezebel and Balaam spirit and his teachings (Rev 2:20-25, 14-16).  Making his house (among other things) the house of Ahab – as do likewise their deeds fulfill.  Thus we should ponder the witness of the following scriptures.
For the whole house of Ahab shall perish, and I will cut off from Ahab every male (2Kings 9:8  NASB95).
As Pastor James Rice talks like he is looking for peace in his house, he is clearly stirring up division, sowing discord, and teaching those listening to him to come to his side – creating more division.  Which is an abomination unto God (Pr 6:14, 6-19).
Jehu has a word of witness for the Overcomer house of Ahab and James Rice's vain seeking of peace – What peace, so long as the harlotries of your mother Jezebel and her witchcrafts are so many? (2Kings 9:22).  Yes, the continuation of Brother Stair's many Jezebel harlotries – are at work in the Overcomer – one of which Pastor Rice has likewise taken unto himself [Rose], and continued in.  The whoredoms continue.  Not only spiritually in the teachings but also manifesting physically.
Sadly, the Overcomers are blind to see this.  Because they are choosing to believe the lies of Brother Stair and Pastor Rice.  Thus they are under a strong delusion that God has sent them (2Thes 2:11).  Until they cast down this Jezebel spirit they are going to continue to be eunuchs – emasculated by their rulers (prophets/pastors) (2Kings 9:32-33).
Who is on the Lord's side?
Did you know Ahab had 70 sons (2Kings 10:1)?  Wonder how many are on the Overcome Farm now?  Is there not a Solemn Assembly sanctified at this time?  To gather all the worshipers?  Is this the slaughter of Jehu?  (2Kings 10:18-28)
A people without understanding will come to ruin
(Hosea 4:14  NIV)