Harve Jacobs of WCSC reports on an ongoing investigation that "Lt. Tyger Benton of the Colleton County Sheriff's Office says Ralph Stair has been taken into custody on eight warrants.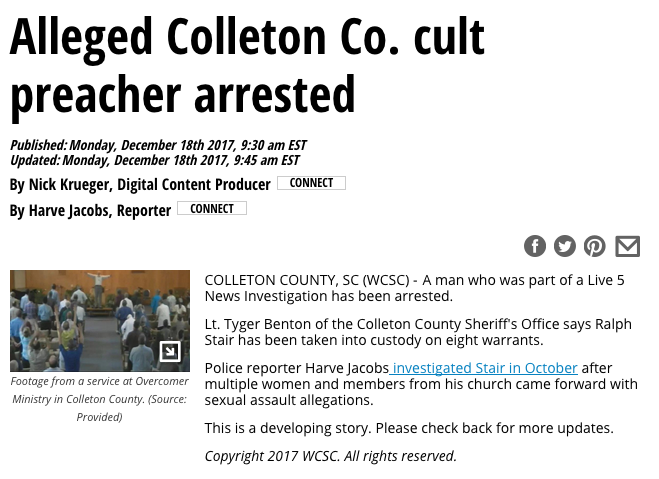 Police reporter Harve Jacobs investigated Stair in October after multiple women and former members of his church came forward with sexual assault allegations."
Brother R.G. Stair is being held awaiting a bond hearing this afternoon.
Not sure if he means Stair is an alleged cult preacher or an alleged preacher, but Stair's arrest is not alleged any longer. "No longer will it be prolonged" -RG Stair, 1987 Prophecy
Could it be that Stair's words will finally come to pass and his reign of prolonged sexual terror will end??? We shall see.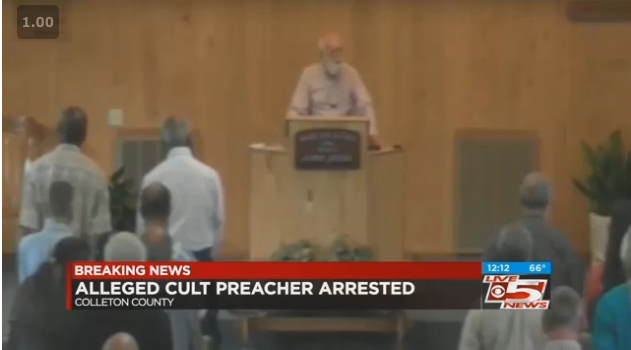 Brother Prophet R.G. Stair's 8 charges are currently:
3 counts

of first-degree criminal sexual conduct [

Rape

]
1 count of

Assault

with

intent to commit

first-degree criminal sexual conduct [

Rape

]
1 count of third-degree criminal sexual conduct

with a minor

1 count of second-degree

Assault

1 count of

Kidnapping

1 count of

Burglary
Plus, they have issued a search warrant for the property

Note: These 3 counts of rape are not 3 accounts of rape; these three women were repeatedly assaulted, just as the two were in the 2002 case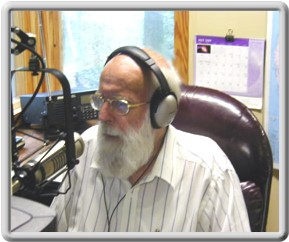 Back of the Farm, Monday of the raid:
At 10:29:30 AM the Overcomer Ministry streaming

broadcast feed went dark

. There is nothing but dead air. [because the FBI confiscated the computers]
[They also confiscated the Farm's

illegal FM transmitter

]

At 11:16 AM the 24 kbps feed became inoperable or was

shut down

. [never came back up]
2:35 PM the broadcast returned somehow playing an old tape message.

Has his mouth been silenced? [Titus 1:11] It's too early to tell.

The ministry that never gave us a clue of what the time really is, has continued that streak with not informing us now in this present distress. Could it be another ploy to strike fear into the hearts of supporters? Or have the authorities pulled the plug as they search the community? Listeners were purposely cut off by Brother Stair from Brother Stair's words at Prayer Time and the Sabbath Service videos were discontinued as Stair wasn't sure he could restrain himself from feeling up someone on camera. Yet, the whole importance of this ministry, Bro Stair's purpose and calling, is that he is the voice that the world needs to listen to, to hear the final words of God to this generation. Here we are in the end, perhaps of his ministry, and we are hearing nothing timely. This should not have surprised us if we were only paying attention. Because nothing that has been said has been on target or of any use to us spiritually from the mouth of Brother Stair.
The broadcast returned at 2:35 PM Monday with an old tape message from the 70s of the giggly, joking, smooth sounding Stair telling one of his stories outside of scripture. His story of Sampson, the one that couldn't resist a woman and whom a woman took down...[sounding too familiar now] He says Sampson lived openly with a woman that didn't belong to him... [Rose] Don't overlook the obvious.

So sad, that as Jezebel who claimed prophetic insight yet could not see her end coming, Brother Stair did not change his ways 16 years ago when God gave him the space to repent, and he despised it and waxed worse and worse. "they are again entangled therein, and overcome, the latter end is worse with them than the beginning" Now we see God using a child that was born those 16 years ago take him down.

---
Many reports are pouring in now from newspapers, TV, and across the Internet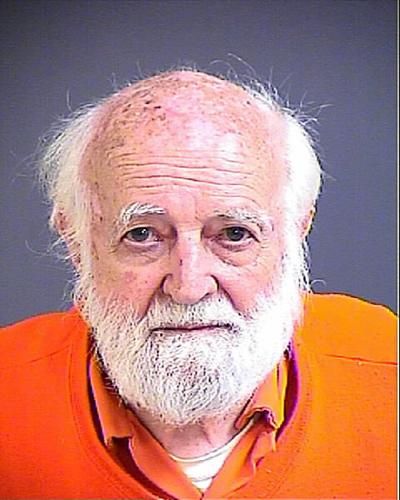 Residents: Church under investigation is rumored to be a cult

Authorities investigating Colleton Co. pastor over video taken in church

Unconfirmed reports of arrest at Overcomer Ministry

Colleton County preacher Ralph Stair arrested for sex assault, other charges, deputies say

Update | Arrest of Brother Ralph Stair confirmed on multiple charges

Court documents detail alleged sexual assaults, other crimes for accused cult leader

Authorities investigating Colleton Co. pastor over video taken in church [Fox 8]

South Carolina preacher arrested following sexual assault allegations amid ongoing FBI probe

Women at South Carolina religious compound say preacher sexually assaulted them in the name of God

Several radio stations pull S.C. preacher's program in light of sex assault charges

Pastor accused of repeatedly sexually assaulting young girls, fondling 12-year-old's breasts in front of congregation

Brave teen, 16, takes down a cult with YouTube [UK news, Daily Mail]

Founder of SC religious compound accused of sexually assaulting women, report says

Community or cult? Experts share why people join Overcomer Ministry

SC preacher accused of leading a cult arrested on sexual misconduct allegations

Ralph Stair arrest follows multiple victims coming forward with sex abuse accusations [ABC News]

Hearing scheduled for alleged cult preacher accused of sexual misconduct in Colleton Co

Brother Stair taken into custody on eight criminal charges, waves rights to a bond hearing

Perhaps by now, we all realize that these "threatening" that Brother Stair has been saying was over him, this "persecution" that is against his message that Jesus is coming - perhaps now we all realize that this is about something other than "his message". That this is God's sword of judgment (law enforcement) coming against Brother Stair's sin that he refused to repent of. The man that heard not a word of his own message against sin and Gods judgment upon even His people that persist in it. He neglected, yet thought he would escape. Even more mocking this is the broadcast since Stair's arrest, airing his old messages that condemn his lifestyle and sins in these later years. Perhaps they are trying to fool listeners and supporters into thinking Bro Stair's message is against sin - when he's changed his message in the last 16 years to one of allowing and not restraining sin - Gnosticism. These old messages are an outright deception of the man we see today.

These charges against Brother Stair are not regarding the Gospel (which Brother Stair doesn't preach), they are not against Christ, or against his preaching that Christ is soon coming - as he's been telling us these last several months.

What we have here is God against Brother Stair's sin where God tried using his servants to turn Brother Stair around but he rejected them and cast them out (as Diotrephes did in 3 John 1:9). Those were the ones that you have heard Brother Stair talk about over the decades that have "come against him" in their "iniquity", these are those who confronted Brother Stair and who urged him to stop his sinning and do right. They left because he wouldn't repent (as is evident now) or because Brother Stair cast them out. Not because they couldn't handle the easy life on the Farm but because they were told they were coming to a holy place set apart from the evils of the world - only to find a greater evil at work - Brother Stair's sexual agenda. These were the many who's preaching Brother Stair would cut off mid preaching, then not allowed to preach, then spoke against them, then they lift or were cast out - like (in recent years) Charles, Stan, Samual, Johathon, the River Community (with Chris & Christopher), Enoch, ....

So now we see God using His sword (law enforcement [Rom 13:4]) to come against Brother Stair's sins in judgment upon him. In all this God is preserving and protecting His message from the perversion of Brother Stair. God uses holy vessels to do His holy work [2Tim 2:20-22]. The only use God would have for Brother Stair according to His word [2Tim 2:20-22] would be to clean the toilet - a vessel of dishonor. That is, if you consider Brother Stair a vessel of God in any way.
The foolishness of man perverteth his way: and his heart fretteth against the Lord. ~Proverbs 19:3
A false witness shall not be unpunished, and he that speaketh lies shall not escape. A false witness shall not be unpunished, and he that speaketh lies shall perish. ~Proverbs 19:5,9
A man of great wrath shall suffer punishment: for if thou deliver him, yet thou must do it again. ~Proverbs 19:19
---
Several radio stations pull S.C. preacher's program in light of sex assault charges

Brother Stair taken into custody on eight criminal charges, waves rights to a bond hearing

Warning to Radio Stations and Providers [Satellite, Internet, and Streaming services]
You bear responsibility for propagating Brother Stairs lies and lifestyle, and you are largely the reason for those that have come to be assaulted by Brother Stair. You are the reason for his funding to do these crimes against the people of God. Think about that as you continue to air his broadcast. You owe your listeners an apology and are responsible to inform them of Brother Stair's crimes, even those of you that have canceled his broadcast - lest they continue to listen to him some other way without any realization of his error.
Check back with this page for updates as the story unfolds