Sabbath Service – July 23, 2022 – Bro Stair [2018 Service], Pr Rice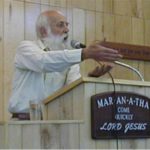 Last Updated on Mon August 1, 2022 @ 12:04 pm
The man that wandereth out of the way of understanding
shall remain in the congregation of the dead (Prov 21:16)
Service starts out with the standard wailing, weeping and gnashing of teeth, against the way God says to come before Him – as Alexander Scourby makes clear (Luke 13:28;  Ps 112:10, 29:2).  While scripture tells us to come into His presence with thanksgiving, praise His name, sing a Psalm (Ps 95:1-2, 100:1-2)  The preeminent ministry of the world, via shortwave radio compasses sea and land today to make one proselyte unto itself and make him twofold more the child of hell than [themselves] (Matt 23:15;  Pr 29:2).
This just goes to amplify the error of this mess and show how it's not only not of God but it's not even trying to follow God.  But why would it?  It has The Prophet of God to follow instead.
One positive thing that can finally be said is that someone, probably from Grace, has learned how to adjust the sound so that we have a clear airing of the Service without an excessive amount of the live congregation (small as it is) interfering with the broadcast.  But there's still Sister Burgess' outbursts in rebellion to scripture.  Let a woman quietly receive instruction with entire submissiveness… remain quiet (1Tim 2:11-12  NASB77).
---
Humbling the Leavers
Brother Stair starts out by focusing on those the left him again and the few that he has.  He does this to justify his few because of those that leave him due to his overflowing wickedness.  Meanwhile, God commanded us to leave him – from such withdraw thyself (1Tim 6:5).  Now we command you, brethren, in the name of our Lord Jesus Christ, that ye withdraw yourselves from every brother that walketh disorderly, and not after the tradition which he received of us  (2Thes 3:6).
Then he goes on thinking about some of these brothers that left…
They don't have it in their heart to humble themselves, do they?  Because to humble themself they have to come back and say "I was wrong".
This proclamation that they were wrong would be wrong because they were right in leaving – they were commanded to by God's word (2Thes 3:6).  They finally obeyed God's many commands to flee the wicked man.
This lie that they were wrong is what he would hang over the River making out to his hearers that it was the River that was in error for withdrawing themselves from the disorderly walking Brother Stair (2Thes 3:6).  Who groped the sisters at the River and was confronted by Brother Chris about it and Brother Stair refused to repent of it saying, I'm not going to do that (Pr 30:11-14).  So they walked out as did Brother Christopher in protest.  If anyone does not obey our instruction in this letter, take special note of that person and do not associate with him, so that he will be put to shame (2Thes 3:14  NASB95).

To this, Brother Stair called their good evil and his evil good and proceeded to require their repentance (Isaiah 5:20-21).  Thus he made the River bitter in the eyes of his congregation and his listeners; and maintained his power to molest (Ps 36:4).  The River anxiously awaited his repentance to restore them but it never came.  His oldest 'friend' Brother Chris was even refused attendance at Stair's funeral.  That's how long-lasting Stair's refusal to repent was and how engrained in his followers it was that the River was the wrong party (Pr 30:20).  Stair died withholding their restoration (1Tim 1:19-20).  Where the tree falleth, there it shall be (Ecc 11:3).
That's the side of the story that you're not going to hear from the Overcomer.  One that most at the Overcomer don't even know.  Fortunately, through these events, the River realized the wickedness of Brother Stair and has gotten mostly free from his lies and delusions.  A work of God's deliverance in disguise.

I've got a monitor on me.  It's called the Holy Ghost.
The Holy Ghost is a person, not an 'it'.  Where was that Holy Ghost monitor when you were doing that groping and raping that got that ancle monitor on you?  Or was that another act of the Holy Ghost as he justified it to be in 2017 when you proudly declared that I touched her right.  Well, that right touching got you arrested and monitored.  Too bad your Holy Ghost didn't warn you about that.  Or about doing that wickedness.
Wickedness that we and the actual Holy Ghost are witnesses to.  And we are his witnesses of these things; and so is also the Holy Ghost, whom God hath given to them that obey Him (Acts 5:32).
We think so much of ourselves.  I do!
Indeed he does!  For he flattereth himself in his own eyes, until his iniquity be found to be hateful.  The words of his mouth are iniquity and deceit: he hath left off to be wise, and to do good.  He deviseth mischief upon his bed; he setteth himself in a way that is not good; he abhorreth not evil (Psalm 36:2-4).
I know the slander of those opposing you, who say that they are Jews – the children of God – but they aren't, for they support the cause of Satan [the synagogue of Satan]
(Rev 2:9  TLB[KJV])
---
Children of the Prophet
I will strike her children dead (Rev 2:23  NIV78).  Beware Grace Community, you are the children of the prophetess Jezebel (Rev 2:20, 23).  Whose teaching misleads God's people into sexual immorality (Rev 2:20).  Who refused to repent in all the many spaces of time that God gave [him] to do so (Rev 2:21).  Since his last blatant refusal to repent in 2017 – marked by three witnesses; Sister Natosha, Sister Andrea, and the River – you witnessed his demise at the judgment of God and the largest death toll ever in his Community.
Are you ready for the next phase?  Do you really want to go on in his rebellion and refuse to repent of his teachings and suffer the consequences?  If you continue to hold to [his] teachings and learn Satan's so-called deep secrets, you will come under God's judgment (Rev 2:24  NIV78).
With the merciful Thou wilt shew Thyself merciful,
and with the upright man Thou wilt shew Thyself upright.
With the pure Thou wilt shew Thyself pure;
and with the froward Thou wilt shew Thyself unsavoury.
And the afflicted people Thou wilt save:
but Thine eyes are upon the haughty,
that Thou mayest bring them down.
(2Sam 22:26-28)
It's Time
It's time to face that all your inordinate affection toward the prophet is perverted.
It's time to face that you are dining on food sacrificed to idols.
It's time to face that you are under a strong delusion because you believed the lie – the lies that Brother Stair sold you at the expense of your soul.
It's time to wake up and put on righteousness.
It's time to realize that you have been deceived and your efforts to daub the wall, to hold up this house of cards, are only prolonging your inevitable destruction.
Oh, why would you die?  Turn ye, turn ye!  (Eze 33:11)
---
A Stroll Down 1st Street in Thessalonians
The exhortation of Brother Stair came [originated] from delusion, error, impure purpose or motive, fraud, and deceit (1Thes 2:3  AMPC).  He used flattering words that he knew would tickle our ears in his pretext for greed (1Thes 2:5  NASB77).  Seeking glory from men as he asserted authority over us (1Thes 2:6  NASB77).  In no way was he gentle among [us], tenderly caring for us, nor having a fond affection for [us] (1Thes 2:7-8).  Any listen to any Service will witness that to you.
No one recalls his labor, hardships working night and day so as not to be a burden to any of [us] (1Thes 2:9).  [We] are witnesses, and so is God, but not of how devoutly and upright and blamelessly [he] behaved toward [us] (1Thes 2:10;  Acts 5:32;  Jn 1:15).  Ney, in all these things, Brother Stair failed us and God in (Heb 12:15;  Gal 2:21).
Disqualified
It never ceases to amaze that Brother Stair and his followers think that these things don't matter.  That for him to be the opposite of what God is, makes him a messenger of God.  How perplexing!  The utter confusion they are in.  How is anyone to identify God's messengers if they do not do the works of their Father? (John 8:44)  This is the perversion that Brother Stair has brought to the table, and therefore made it a table of devils [demons] (1Cor 10:21).
Scripture clearly tells us the qualifications of an overseer (1Tim 3:1-7;  Titus 1:5-9  ESV).  An overseer must be above reproach (1Tim 3:2).  Brother Stair sets himself in the place of an overseer, an elder, of God's people but he fails in every qualification.  He further boasts that he does not qualify according to the scriptures.  Should we blindly believe that he is therefore called of God to be in that position when God's word tells us differently?  Who hath bewitched you, that ye should not obey the truth (Gal 3:1)???
Since the fear of the LORD is the beginning, and there is no wisdom or understanding to those without this fear (Ps 111:10).  They that have this good understanding do His commandments (Ps 111:10).  What of those like Brother Stair who never started with that beginning?  There is no fear of God in those who do the wickedness that Brother Stair has always done throughout his ministry (Rom 3:18;  Ps 36:1-4).
Paul tells us that Brother Stair doesn't even know God.  For God has not called us for the purpose of impurity (1Thes 4:7  NASB77).  Not in lustful passion, like the Gentiles who do not know God (1Thes 4:5  NASB77).  Lustful passion is the staple of Brother Stair's ministry.  Forget about the sanctification that he falsely preached before 2001, before he was caught in gross sexual sin.  No, abstaining from sexual immorality was never on his plate (1Thes 4:3).  He didn't need the will of God to interfere with his religious game to the top (1Thes 4:3;  Acts 8:9).
Ney, in all these things Brother Stair had no interest in knowing how to possess his own vessel in sanctification and honor (1Thes 4:4  NASB77).  Consequently, he who rejects this is not rejecting man but the God who gives His Holy Spirit to you (1Thes 4:8  NASB77).  There are the consequences of his actions.  Are you going to follow suit and have the same demise?  Or perhaps those are comforting words to you (1Thes 4:18).
Take away the dross from the silver, and there shall come forth a vessel for the Refiner (Pr 25:4-5).
The works of the Lord are great, sought out of all them that have pleasure therein.
His work is honourable and glorious: and His righteousness endureth for ever.
The works of His hands are verity and judgment; all His commandments are sure.
They… are done in truth and uprightness.
(Psalm 111:2-3, 7-8)