Sabbath Service – October 24, 2020 – Bro Stair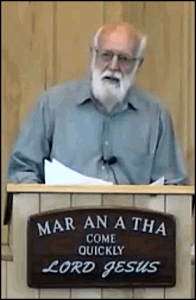 Last Updated on December 15, 2020
Brother Stair says we're not dogs and is surprised at the lack of positive reaction.  Would that be because we are constantly told (by Brother Stair) that we are dogs and worse?  Brother Stair needs a mirror to show his congregation what they look like – but when he looks at himself in that mirror he immediately forgets what he saw (Jam 1:23-24), thus he continues as he does.
"I never learned what was right except by being wrong.  Boy, what a statement."  Bro Stair must have got that lesson from his German ancestor Otto von Bismarck that "Only a fool has to learn from others mistakes."  If Brother Stair would have practicing reading Proverbs and putting God's Word into practice he wouldn't have had to take the fool's path to wisdom – with is still not wisdom when you continue therein.  Again, James 1:23-25.  Wise men learn from other's mistakes.
"I've wronged no man."  Perhaps it's just women he wrongs?  [More on that in a moment]
"Boy, we are something else people.  We are just a bunch of damn fools that sit there unconcerned.  Our minds are every which way except where they ought to be.  And you don't give a damn about the people out there listening with us today, you don't care about that at all."  Is Brother Stair unaware of his lack of care for his listeners?  Is Brother Stair so unaware of his narcissism that he even blames his congregation for the way he runs things?
"You Damn Folk can't stand it can you?  Can you?"

"You wicked people!"
You see now why his "you're not dogs" opening was not received by the damn wicked people.
His daughter tells him he has seven felonies on him.  [There were actually eight charges on him in Dec 2017]
"I've told you I committed adultery with four sisters here.  How long ago was that Terry?"
"About three years ago."
"No, no.  Would you all do me a favor and get the Hell out!  No want to stand and defy me again hu?  Defiant!  Arrogant!  Proud!  Haughty!"
Brother Stair defines himself in his rage, for the truth again came out that he didn't want to be exposed.  [And it's many more than four]  This reminds us of what we call the Porn of the Air incident in 2004 where one of his technicians said "We [the tech brothers] have been dealing with this [Brother Stair's pornography on his computers] for three years now."  This statement was a revelation to us because we were being told by Brother Stair that he repented in 2001 and that was all behind him.  Then we learned (as now with Terry's statement) that all things continue as they were (2Pt 2:4).  There was no repentance and no change in 2001.  Which God made clear by his arrest the following year after his space of repentance expired.
Note that Brother Stair is not saying that he has quit his committing adultery with these four sisters.  Or that he has repented of this heinous sin.  Nor is he bringing his long-standing and present double adultery with Rose (another man's wife) who he has taken charge over and he has living with him.  Nor is Brother Stair letting us in on his definition of what constitutes adultery.  This way his oral sex, anal sex, and his sexual touching are not, to him, considered adultery and thus would include many more women than the aforementioned four.
Are these four sisters to be taken to be in addition to the three that he raped that he is charged for?  Certainly, they are, as those three were the few that came forth in his 2017 arrest.  This is not counting the two that he raped that he was arrested for in 2002. 
So Brother Terry's statement was at least correct in that the numbering of the four sisters was not from the many (most) he never numbered in 2001, nor from the two that charged him with rape in 2001, nor from the three that charged him with rape in 2017.  These four appear to be a four that were still there (and that didn't charge him with rape) – three years ago, as Brother Terry clearly states and to which the congregation was in agreement with by their reaction – thus we hear the witness of that very reaction by Bro Stair's violent reaction to them all not covering it up. 
Is this a feeling of sorrow for committing adultery?  This is not repentance, is it?  This is a demonstration of worldly repentance that didn't want to be caught.  This is also clearly seen in Bro Stair's always saying these are all lies on him.  No remorse.  No repentance.  Therefore no restoration.  Same as it ever was.
"Out dinner should never be late.  Our breakfast should never be late.  Never.  Never!  Never!  Never."
Someone is thinking of his flesh – again.  So it's their fault that Brother Stair is preaching so long in the Dining Hall that no one can get any work done around there.
---
Brother Stair, the Prophet of the Overcomer Ministry preaching at the Tabernacle in Canadys SC.
7+ minutes of the Sister Burgess Show was removed.
Almost 20 minutes of silence removed.